Making Sure your Commercial Insurance Coverage Generates Powder
Snow is a phenomenon enjoyed by children,  sports  enthusiasts, and many others but snow is essential to those industries that cater to snow sports enthusiasts.  In particular one profession stands out.  That is a snow grooming.  A snow groomer (a/k/a  a slope groomer) without a doubt needs a comprehensive commercial insurance package covering all of their heavy equipment.
So what is a snow groomer you might ask.  Wikipedia defines it as "a process of manipulating snow for recreational uses with a tractor, snowmobile, caterpillar, truck or snowcat towing specialized equipment. A snow groomer is usually employed to pack snow and improve skiing and snowboarding and snowmobile trail conditions."
How did snow grooming get started?  According to the International Skiing Association the first snow grooming machine was an agricultural roller used at Mt. Cranmore to pack the snow followed by scarifying using chains and caulks to create a powder like base to ski on.  Steve Bradley, Manager of Winter Park, further refined snow grooming by working with Ed Taylor, the former chairman of the National Ski Patrol.
Presently snow grooming is generally performed using a snow groomer machine or a snowcat with a tiller and other attachments.  A winch cat is often used when the grooming takes place at a precarious location such as steep terrain.  The winch is used to stabilize the equipment.  This machinery is very heavy, enormous in size and expensive to purchase and maintain. Many models come with specialized navigation systems. A snow blower may also be used to even out the accumulation of snow in certain areas.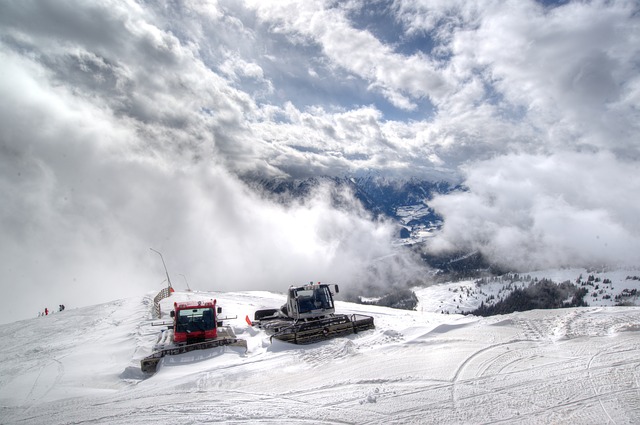 Image Accreditation: Pixabay Creative Commons 2.O not required
Of course you cannot groom snow if there is no snow so making artificial snow falls to this occupation at times.
Snow groomer's range from in house professionals at exclusive ski resorts worldwide to volunteers with a Trail Association. Trail grooming for snowmobiles usually falls under the purview of the Recreation Trails Program administered by the US Department of Transportation which generally follows the Guideline for Snowmobile Trail Groomer Operator Training– a Resource Guide for Trail Grooming Managers and Equipment Operators. Snow cat operator are required to take a course and become certified under OSHA standards.  This blog will focus on snow grooming  by snow cat operators for ski areas rather than snowmobile trails.
Snow groomers for ski resorts that offer a wide array of snow sports generally operate in 3 different ways:
1. Many ski resorts rely on their in house employee snow operators and supply their own equipment,or
2.  Resorts contract with snow grooming contractors who provide their own staff and equipment.  If so, the contract generally specifies the type of equipment to be used by the contractor.  As a result the contractor has a substantial investment in equipment alone including purchase cost, repairs, maintenance, and insurance, or
3. Resorts contract with a snow groomer where the snow contractor supplies only labor, fuel, and routine maintenance on the equipment which is owned by the ski resort, or the contractor may alternately be leasing the equipment from the ski resort.
Groomers may also contract to remove the snow from parking lots and pedestrian walkways at the resort common areas where no sports take place. They may need additional equipment in addition to grooming equipment such as a snow blower, snow melter, snow sweeper and snow shovel.
 Which type of contract you are operating under is essential to determine your insurance needs
If you are employed by a ski resort or lodge you are covered by their insurance. However, if you are an independent snow grooming company, you will need these types of insurance at a minimum:  commercial general liability, workers compensation for employees, commercial auto and commercial property.  The best option may be purchase a commercial package designed specifically for your company rather than a BOP which is for small to medium businesses.   You may need an endorsement or rider for your commercial property which covers the specialized snow grooming  and removal equipment, if you provide the equipment, and marine inland particularly if you transport the equipment on a regular basis to perform snow grooming at different locales.
If you have employees you need to be sure they have basic safety training which satisfies OSHA regulations. and that they have the level of experience necessary to perform that particular grooming activity.  You need to pay particular attention to safety of your workers and anticipate possible weather conditions that can cause injuries to workers and be proactive in establishing a safety plan and demand strict compliance with the plan.  See the OSHA Fact Sheets for guidance on dealing with extreme winter conditions.
Another consideration must be factored in if you operate at night to perform grooming after the slopes are closed. You may need large movable lighting sources and generators.  These also need to be specifically covered under the property coverage in your policy.
Due to the serious nature of injuries incurred when a person encounters snow grooming equipment many cases have found liability against a ski resort as the owner of the equipment being operated by an employee on the basis that the grooming  itself is unreasonably dangerous.  If you own your  own equipment and perform snow grooming under a contract you should consider purchasing excess liability and umbrella insurance. Two of the largest verdicts were for 8.3 million dollars and 11 million dollars.
Whether professional liability is required is a complex issue for all professions.  For snow groomers it is somewhat of quandary.  If you work for a ski resort as an employee than their insurance covers you but if you are operating your own company that is not the case.  In the past snow groomers did not necessarily  have  Errors and Omissions policies.  This  is an issue which is ripe for litigation.   You are in essence designing, packing and moving the snow to prepare areas for people to safely use for skiing, snowboarding,  slalom and operating snowmobiles. The courts have found this to be unreasonably dangerous activity when undertaken by a ski resort.  It stands to reason that if you perform this task it is still dangerous.  You are acting in the capacity of both a contractor and in a similar fashion to an architect or designer. Both the ski resort and the public  rely on your assessment of the safety and condition of the ski slopes. So  if you do make a mistake than an Errors and Omissions a/k/a Professional Liability policy can help cover  litigation expense and ensure the safety of your assets.
If your are also removing snow you need to keep abreast of all developments and regulations  regarding chemicals used and should have an environmental pollution policy.
While snow grooming is a very complex operation to run smoothly the joy one may experience while working in a frosty serene setting lighted by the moon and the stars is a pleasure most jobs don't have at their work site.  Nor can you experience the beauty of looking out over the spectacular sight of freshly groomed fields of corduroy that you just molded in any other profession and have a feeling of accomplishment that goes with it.